Basic Facts Milestones Addition/Subtraction
Once the foundation for counting has been set, building fluency for Basic Facts follows. The Basic Facts Milestones provide yearly links to the Australian Mathematics Curriculum from Foundation to Year 2.
MORE INFORMATION: MILESTONES HOMEPAGE
The Milestones provide a default position for schools to adopt a whole school approach for the development of properties and mental strategies associated with basic facts.
The sound understanding of Basic Facts mental strategies is an integral part in the development of a students' mental computation ability. Having a whole school approach is essential and the Milestones suite of resources provides a platform for schools to work from.
Even if you don't adopt the Milestones steps, you can make use of the linked materials.
Attached Files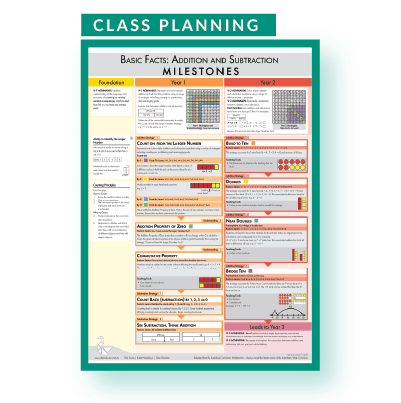 Version
Download

22217

File Size

0.3 MB

File Count

2

Create Date

August 20, 2021

Last Updated

August 20, 2021