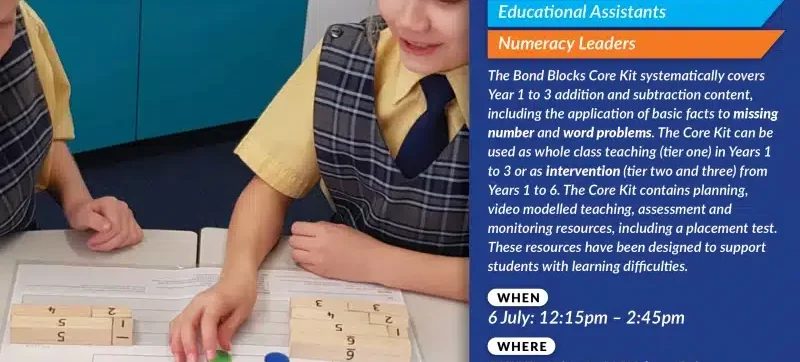 (Perth) (Bond Blocks) Introducing the Bond Blocks Core Kit: Level 1 – Prevention and Intervention of Maths Difficulties
AISWA are pleased to offer a session on Mathematics Intervention and Support using Bond blocks presented by Narelle Rice and Dr Paul Swan.
Differentiation is different to Intervention. This session will explore:
i. A Response To Intervention framework for a whole school approach to Maths Intervention
ii. Key attributes of students who experience difficulty in mathematics and require intervention.
iii. Guidelines to teach and implement intervention effectively, including the use of manipulatives in a Concrete – Representational – Abstract Framework.
The mathematics in the session will focus on additive thinking: from initial counting in Kindergarten through to Year 3 level addition and subtraction.
Reference will be made to how a Concrete Representational Abstract approaches links to the solving of word questions in addition and subtraction.
Bond Block Introduction
Bond Blocks is a system of over 100 sequenced activities to build understanding and fluency in addition and subtraction with basic facts, including application to word problems and related algebra. The system has two uses:
1) As part of a whole school approach to Mental Maths in Years 1 to 3.
2) As an Intervention Support System for students in Years 3-6 who count to add and subtract.
The Bond Block system includes a placement test and a monitoring/tracking tool.
The system does not require teachers to attend face-to-face PL. All PL is available free on the website so teachers can watch relevant parts, pause or rewatch. New teachers to the school can view the same PL. The developers understand how difficult and costly it can be for schools, especially in remote areas to access and cover the cost of PL
Every activity is completed on one, reusable A3 board, by pairs/individuals. Each activity is modelled in a short video (1 – 2min), which teachers can watch prior to the lesson or give to support staff or show directly to the students.
Further support notes and materials are provided at Bondblocks.com so that teachers can differentiate the tasks